So, yah.

I guess my hiatus is kind of over. Oh well. I didn't expect t to last that long anyways. Hm. So I'm back, and here to give you the official AVATAR SEASON THREE REVIEW. WHOOWOO.

Before I get to that; fun things about today surrounding The Avatar Season Three premiere:

- Getting to be there, Damn.
- Putting my hair in hair loopie-doos~ Wheee~ I are Shui 8B
- Reading the Avatar Magazine with the twins. I WANNA ASK AZULA SOMETHING.
- Twins and I made an Avatar cake. FUCK YES WE DID. AND CUPCAKES MOTHERFUCKER. We took pictures. I'm so proud of us!! For people who've never really baked before, we did good, damnit. WE'RE CAKEBENDERS.
- Putting the icing on said cake and cupcakes. We decided to put the insignia's of the four nations on the cake with frosting. They turned out... amazing okay. The real fun happened when we decided to put icing on the cupcakes. We did the math, and we had 24 cupcakes, which meant six cupcakes for each of the four elements. However. We ran out blue really fast, so we had to improvise. We ended up with six Fire Nation cupcakes, six Earth Kingdom cupcakes, four Air Nomad cupcakes, four Water Tribe capcapkes and four randoms ones. We had one that had a black sun on it (day of black sun, durrhurr), one with the word "Iroh" on it (becuase it's only four letters long and... it's Iroh. 'nuff said), an Aang head, and something that could either be Sokka's boomerang or... a banana. You decide. I'll have pictures later.
- Feeding three obsessions at once. We were making the Avatar cake, talking about Avatar, I was playing WoW and we were listening to My Chemical Romance. Megzie is a happy Megzie. And I has a Blood Elf now. But only for ten days, Sad face. Does anyone know how to crack Burning Crusade? HALP!
- Assigning ships so we could beat each other up when hey didn't happen ala this comic. I was Zutara, Corinne was Kataang and Larissa couldn't decided, so she got saddled with Maiko. I did the most beating up. Damnit. Until we got to The Bending Battle. WHOO HOO.
- While we were siting watching SpoungBob (Eww.) and waiting for Avatar to start, we heard something (I tpyed "domsrhing" the first time I tried to type "something" o___O) in the kitchen. I rushed in to find my cat, Elrond had attacked the cupcakes. He'd managed to take out two Fire nation cupcakes, which inspired a slew of "Elrond did you get in trouble with the Fire Nation again?" Like the old lady in that one episode in season one. I had to wash the frosting off of Elrond in the sink. It was pretty amusing.
- The two seconds before the show actually started when we were hyperventilating we were so excited. "I CAN'T BELIEVE ITS ACTUALLY HAPPENING."
- Saying the intro along with the TV and knowing that thousands of other Avatards were doing the exact same thing. It's a great community.
- Calling Emily and Cris and fangirling to them during the commercial breaks. It was a cross country event. Excitinging~ Emily and I had a good squee over everything we could fit into four minutes of senseless fangirlish babble before the show came back on and we had to hastily hang up on each other. I wish the two of them could have been here to celebrate Avatar day with us, but THEY WERE HERE IN SPIRIT!! And they'll be here for ehte finale hopefully, so we'll throw A HUUUUUGE Avatar Party then!!

Okay. So. My actual review of the episode~



- First of all. Aang got hot. WOW. WHEN DID THAT HAPPEN.
- MAIKO WTF. I'm sorry. I just don't get that pairing. I mean... it's got potential I GUESS , but it's just pulled off so.... weird. There's no other way to put it. And I woudl have liked a little more background on that for those of us who didn't get the comic.
- Azula's advisors are scary. SCARY SCARY LADIES. I predict ths is what the twins will look like in 80 years or so.
- Sokka has a full ponytail. WHA-HA? No more wolf's tail. But DAMN des he look HAWT is that Fire Nation armor. Oh god. I came.
- The waterbending. THE WATERBENDING MOTHERFUCKER. I remember the days when I didn't like Katara because I thought she was a wimp and the obligitory female. Now she kicks so much ASS. It's not even funny.
- Metalbending. I. Came. SO HARD. I LOVE YOU TOPH.
- "Thank-you, the universe!" The first season three Sokka line!
- Wow. Aang really is the new Zuko. Emo much? Everyone in this episode had EMO. Save for Sokka and Toph. PLATONIC OTP. Go emo-free characters! Whoohoo!
- This is a little thing, but Zuko with the turtle ducks. Poor Zuko ;_____; I hope Princess Ursa is still alive for his sake.
- Fire Lord Ozai. WOW. Sexy sexy beast. I was so not expecting him to look the way he does. I was expecting something closer to the way Roku looks, but I s'pose that this is where Zuko (and Azula) get their good looks from. LUKE WENT TO THE DARK SIDE.
- Azula not in her Fire Nation armor. Wow, she looks normal. And... kind of hot o____o I'd hit it. She was totally trying to seduce Zuko. I could just hear her saying "It's too bad you're my brother..." as she sat there so slinkily on her bed in her robe. I'm not your brother, Azula!!
- OH MY GOD AZULA IS SUCH A MANIPULATIVE BITCH. I LOVE HER SO MUCH. (But she is crazy... and needs to go down.)
- Hakoda and Bato look the same :| But they're both old man sexy so it's okay.
- Katara's confrontation with Hakoda. I liked it, but I almost would have liked to see it in a later episode. It was briliiantly acted though. Good job Mae! And when Hakoda said he missed Katara and Sokka so much it hurt, I wanted to cry.
- Aang flying through the storm. AND DOING THAT FUCKTASTIC DIVE INTO THE WATER I CREAMED MY PANTIES OH MY GOD.
- SPEAKIN' OF OLD MAN SEXY, LETS HEAR IT FOR ROKU YOU SEXY SEXY (DEAD) OLD MAN, YOU.
- Yue's cameo was amazing. I didn't even like Yue that much, but her apperance was just... so beautiful!! There's no other word to describe it. I love Yue~ OH and her tidal wave inducing waterbending was HOT.
- On that note, if you have to invad the Fire Nation do it on a tidal wave. Hotness.
- THE GLIDER. THE GLIIIIIIDERRRRR!!111 I know it was just a prop, but I feel as if a major character has DIED. I will miss the glider.
- WHERE THE FUCK IS IROH?
- GOD IT NEEDS TO BE NEXT FRIDAY RIGHT NOW OH MY GOD. I NEED MORE. MOOOOOOOOOORE.


Gaaaaah~ Is so happy!! Here are the photos I promised.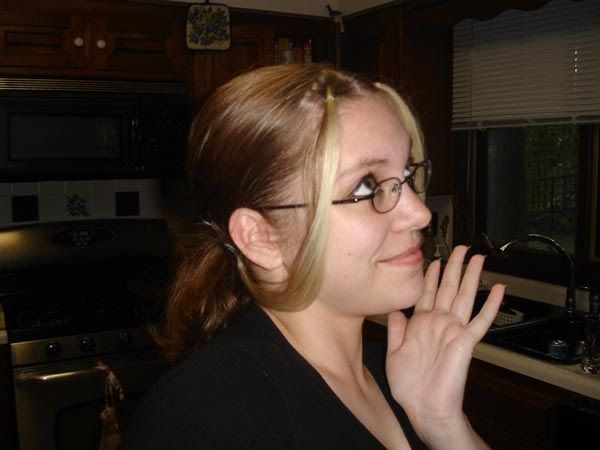 Me with my hair loopy-doos~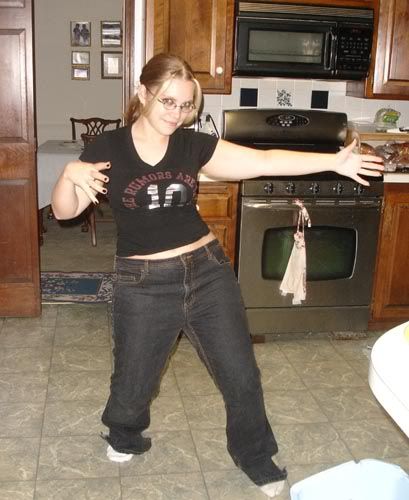 I AM SHUI!! Watch me Waterbend with my as of yet to be photoshopped in water!!11



Water Triiiiibe~ *slinks out*



THE AVATAR CAKE!!11 I know it doesn't look like much, but we worked hard on it!!!11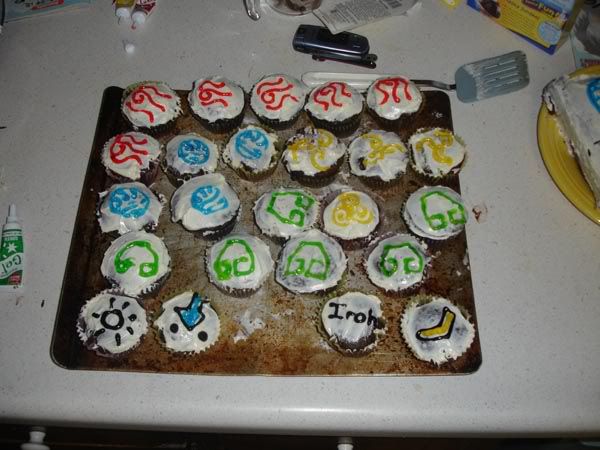 The AVATAR CUPCAKES!! Notice the bottom row where we had to get creative because we ran out of blue.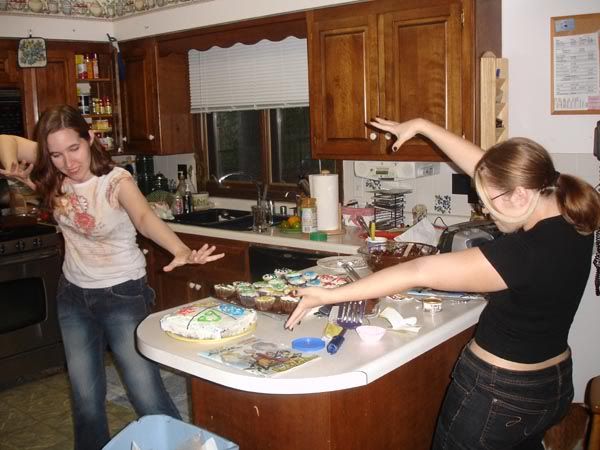 WE ARE CAKEBENDERS! WATCH ME AND LARISSA CAKEBEND!!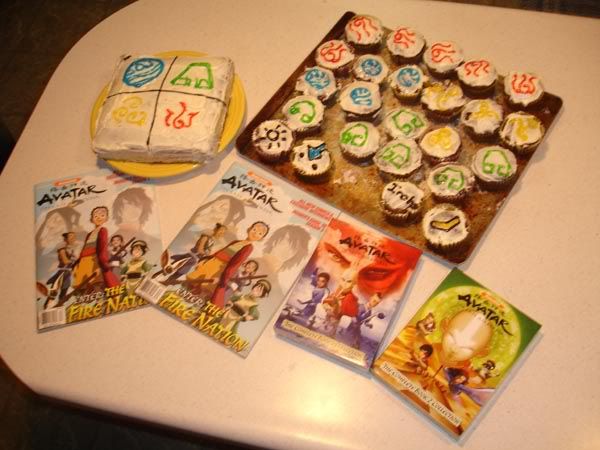 Ahhhh... all the Avatar goodness in one photo! Isn't it GRAND!!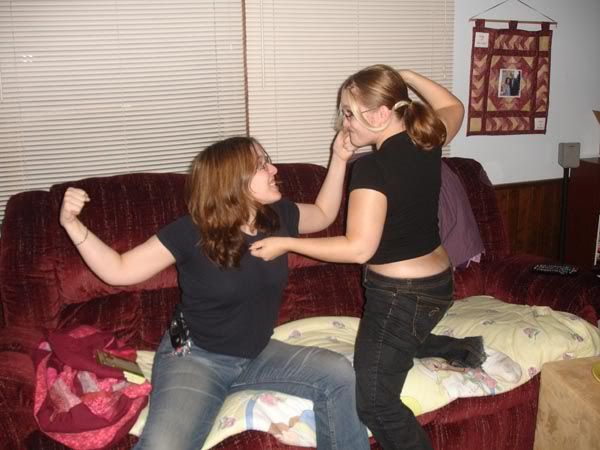 Corinne and me fighting. Or rather pretending to beat each other up over respective ships ala this comic. HAY MAYBE WE'RE BENDING DURRHURR. Only time and photoshop will tell! I'm pretty sure I'm winning. I've got Corinne's shirt and she's got one of my hair loopies. Yeah, I'm probably winning.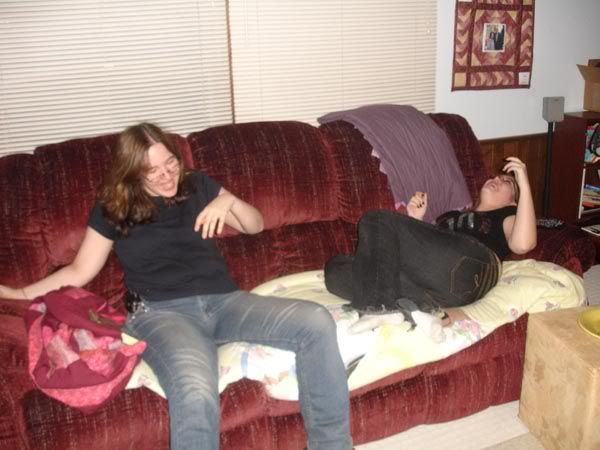 Well... actually we tried to fight but fell into a fit of giggles at the funny faces we were both making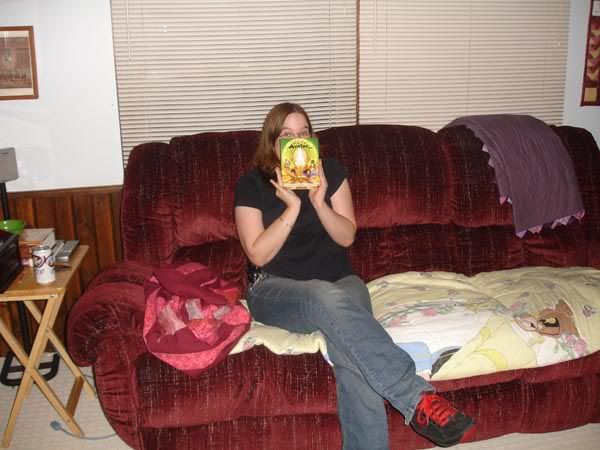 Corinne with MY Avatar boxset. Ahhhhh Avatar~


Needless to say, I am a very very very very happy Megzie right now. It's been one hell of a month, but I've had more then enough fun tonight to make up for all the angst and drama.

And we nine more weeks of this in a row. HOT DAYUM. I KNOW WHAT I'LL BE DOING ON EVERY SINGLE FRIDAY NIGHT UNTIL THANKSGIVING.

I remember back in high school when the twins mentioned something about a show called Avatar. I watched the first few episodes and thought ti was pretty cool, but it wasn't until last summer that I really got into it. Who knew that I would be so totally and utterly obsessed with it now that it has engulfed my LIFE!! BAH I LOVE AVATAR. IT IS A FUNNY SHOOOW~

Now, off to bed with me. I have to get up very very very very early tomorrow. Blah. Oh well, I'm happy to have to get up early if it means I got to have my Aavatar Day!

FOR THE WATER TRIBE!!! *slinks out~*